Greencastle dancers to take steps in Christmas show
PAT FRIDGEN, Echo Pilot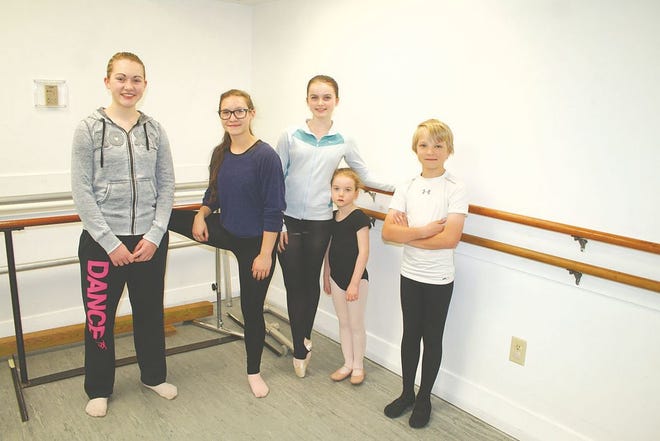 A ballet performance of "The Nutcracker" is one more event people can attend to enjoy the holiday season. Two shows, at 7:30 p.m. Dec. 6 and 3 p.m. Dec. 7, will be held at The Maryland Theatre in Hagerstown, Md. Several children from Greencastle will be featured dancers.
"This is one of the most widely-done ballets all over the world," said Danielle Horochowski, artistic director and owner of The City Ballet School and Western Maryland City Ballet Company, which are presenting the Christmas favorite.
She and ballet mistress Amy Wrobleski choreographed the dances to the classical ballet, scored by Tchaikovsky. Of the 180 students in the school, approximately 100 are in the production.
"It's fun how proper it is," said Julianna Roman, 14, of the very technical form of dance. "I like sharing my passion with people."
She will be in costume as a Party Teen, Big Mouse and in the Arabian Corps. She is the daughter of Roxanne and Marco Roman.
Shaelyn Kaiser, 14, has been rehearsing the parts of Soldier Doll, Mouse, and in the Arabian and Demi-Flower corps. The daughter of Lori and Michael Kaiser, she is excited for the two shows.
"Performance is a natural thing for me," she said. "I like being in front of people."
Sisters Erica Bergquist, 13, and Addyson, 6, are the daughters of Dawn and Eric Bergquist. Erica will be in the Snow-, Flower- and Spanish corps, and the Chinese soloist on Sunday. She likes being on stage and performing for people. Addyson will be Baby Mouse and Polichinelle. She wasn't ready to articulate her love of dance.
Active in baseball and soccer, Ben Pierce, 10, sees the activity as beneficial beyond the stage.
"Ballet helps, if you like a sport, you are better," he said.
He has the key role of Fritz, and is also a Party Boy. He has trained since he was four and is the son of Kathryn and Daniel Pierce.
Guest artists will also appear in "The Nutcracker". Lara O'Brien has an extensive career and was most recently promoted to principal dancer in the Carolina Ballet. She will be Snow Queen and Sugar Plum Fairy. Timour Bourtasenkov will star as Snow Prince and Cavalier. He was founding member of the Carolina Ballet Company and has won awards in international competitions.
Horochowski, daughter of Daniel and Ursula Horochowski of Greencastle, graduated from Waynesboro Area High School and studied dance at The City Ballet and in Pittsburgh. She earned a B.A. in Dance from Belhaven College in Jackson, Miss. and performed in Washington D.C. She worked for USA International Ballet Competition and in Mississippi before moving to Hagerstown.
Tickets for "The Nutcracker" are available at The Maryland Theatre box office 301-790-2000.